Friday Funny
I've seen this shared so many times on social media this week. It's in reference to hurricane season. 🙂
MM News
I had a wonderful visit to Allardt Elementary yesterday morning to talk weather and some space to the summer camp kiddos. They had some great questions and were a very good audience! I told them to invite me back anytime!
Weather Headlines 
A hot and humid Friday
A possible tropical storm making landfall in Louisiana
Rain chances increasing over the weekend
A wet start to the new work week
Meteorologist Mark's Wx Vlog 
Seven-Day Forecast
Daily Forecast 
Today: Hot and humid, with lots of sunshine.
Saturday: Increasing cloudiness. A slight chance for a shower or storm. Otherwise, hot and humid.
Sunday: Mostly cloudy, with a chance of a few showers and storms.
Monday – Tuesday: Mostly cloudy, with scattered showers and thunderstorms likely.
Wednesday -Thursday: Mostly sunny. Low humidity and quite pleasant! Storms may move in late Thursday (monitoring).
Hay Weather Forecast
Meteorologist Mark's Wx Concerns
Some strong thunderstorms are possible Monday and Tuesday, as a cold front moves through the area. Widespread severe weather is not expected, but any storm that develops could pack a punch.
More strong storms are possible the end of next week. Those will be associated with an unsettled pattern that is expected to develop. I'll keep a close eye on that.
Almanac for Yesterday
Tropics 
This map shows the projected rainfall for the tropical system in the Gulf. It has yet to earn a name, but it certainly could at any moment. This is expected to be a tropical storm at landfall on the Louisiana coastline. That landfall will occur late tonight. The effects of the system will be felt along and to the east of the path. Those effects are expected to stay south of the plateau.
Sun & The Moon
Planting by the Moon in June
On This Day in Wx History
1958 – Hailstones up to four inches in diameter killed livestock as a storm passed from Joliet to Belfry in Carbon County Montana.
Yesterday's National Temperature Extremes
High:  128° at Death Valley, California
Low:   25° at Stanley, Idaho 
Today's Tennessee Weather 
It's a hot and humid day across our beautiful state! At least we will see lots of sunshine, with just a passing cloud or two. It's a great day to hit the pool! High temps will hover around the 90-degree mark statewide.
Tonight's Tennessee Weather 
With just a few clouds passing by, it will be a warm and humid night. Overnight low temps will be around 70 for many of us, with lower 60s for upper East Tennessee.
Tomorrow's Tennessee Weather 
After several dry and sunny days, a chance for a shower or thunderstorm reenters the forecast just in time for the weekend. Saturday is not a washout, by any means, but everyone has a slight chance of seeing a mainly afternoon shower or storm. If you have outdoor plans, just keep an eye on the sky and the radar. Otherwise, be prepared for hot and humid conditions.
Drought Monitor
The drought monitor is updated each Thursday.
Weather SnapShots
I had some time yesterday between speaking at Allardt Elementary and training for my new job in Jamestown, so I headed up to Alvin C York for a few minutes. The weather was perfect for it!
NASA Nerdology 
NASA first partnered with Peanuts creator Charles Schulz in 1967 to promote Space Flight Awareness, and Snoopy has stayed the mascot for space flight safety ever since!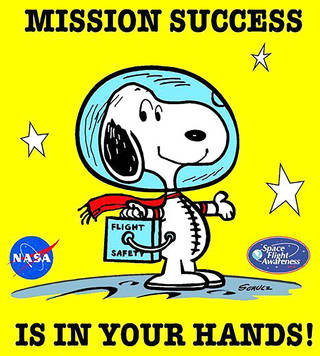 You all have a great day and keep lookin' up!
Note: To offer support to Meteorologist Mark and his educational outreach programs, please consider giving via  https://www.paypal.com/paypalme/meteorologistmark. If you can't give, no worries! Just keep following and tell your friends! 
Please feel free to "Follow" me on Social Media!
Facebook @meteorologistmark
Twitter @meteo_mark
Instagram @MeteorologistMark