MM News
The Summer Solstice begins tonight at 10:30 p.m.! That is the astronomical beginning to summer.
Weather Headlines 
A dry, hot, & humid Father's Day for most of us
A wet Monday with strong storms possible
Midweek looking NICE!
Meteorologist Mark's Wx Vlog 
Seven-Day Forecast
Daily Forecast 
Today: Partly to mostly cloudy, with a slight chance for a shower or storm in the afternoon/evening.
Monday: Showers and thunderstorms. Some storms could be strong. Rain could be heavy overnight.
Tuesday: Mainly morning showers, followed by clearing skies by afternoon.
Wednesday: Mostly sunny and very pleasant. Low humidity.
Thursday: Mostly sunny. A bit more humid.
Friday & Saturday: Hot and humid. Scattered thunderstorms possible, especially by Satruday.
Hay Weather Forecast
Meteorologist Mark's Wx Concerns
The Storm Prediction Center has placed our region in the marginal risk for severe storms for Monday. This is for the threat of damaging wind gusts that any storm could produce. Storms could also produce heavy rainfall that could drop visibility quickly, deadly cloud-to-ground lightning, and even small hail.
Almanac for Yesterday
Tropics 
Tropical Storm Claudette has weakened to a tropical depression and is moving through Georgia. That system will move back over ocean waters tomorrow and likely regenerate into a tropical storm once again. It will continue to be called Claudette. It's not that unusual for systems to redevelop after crossing land, as they race away from the U.S. in Atlantic waters.
Sun & The Moon
Summer Solstice happens tonight! I'll have a special blog post later on this evening about this.
Planting by the Moon in June
On This Day in Wx History
1997- Golfball size hail is reported in Fentress County.
Yesterday's National Temperature Extremes
High:  125° at Death Valley, California
Low:   28° at Mackay, Idaho 
Today's Tennessee Weather 
It's a sunny, hot, and humid day across the state. Those of you in East Tennessee, especially near the mountains, could see an isolated shower or storm. Otherwise, look for partly to mostly sunny skies for this Father's Day.
Drought Monitor
The drought monitor is updated each Thursday.
Weather SnapShots
After a rainy and windy day from Tropical Storm Claudette, I'm sure the folks of Mobile, Alabama probably really enjoyed this Saturday sunset! Photo by Charles Peek (@CharlesPeekWX).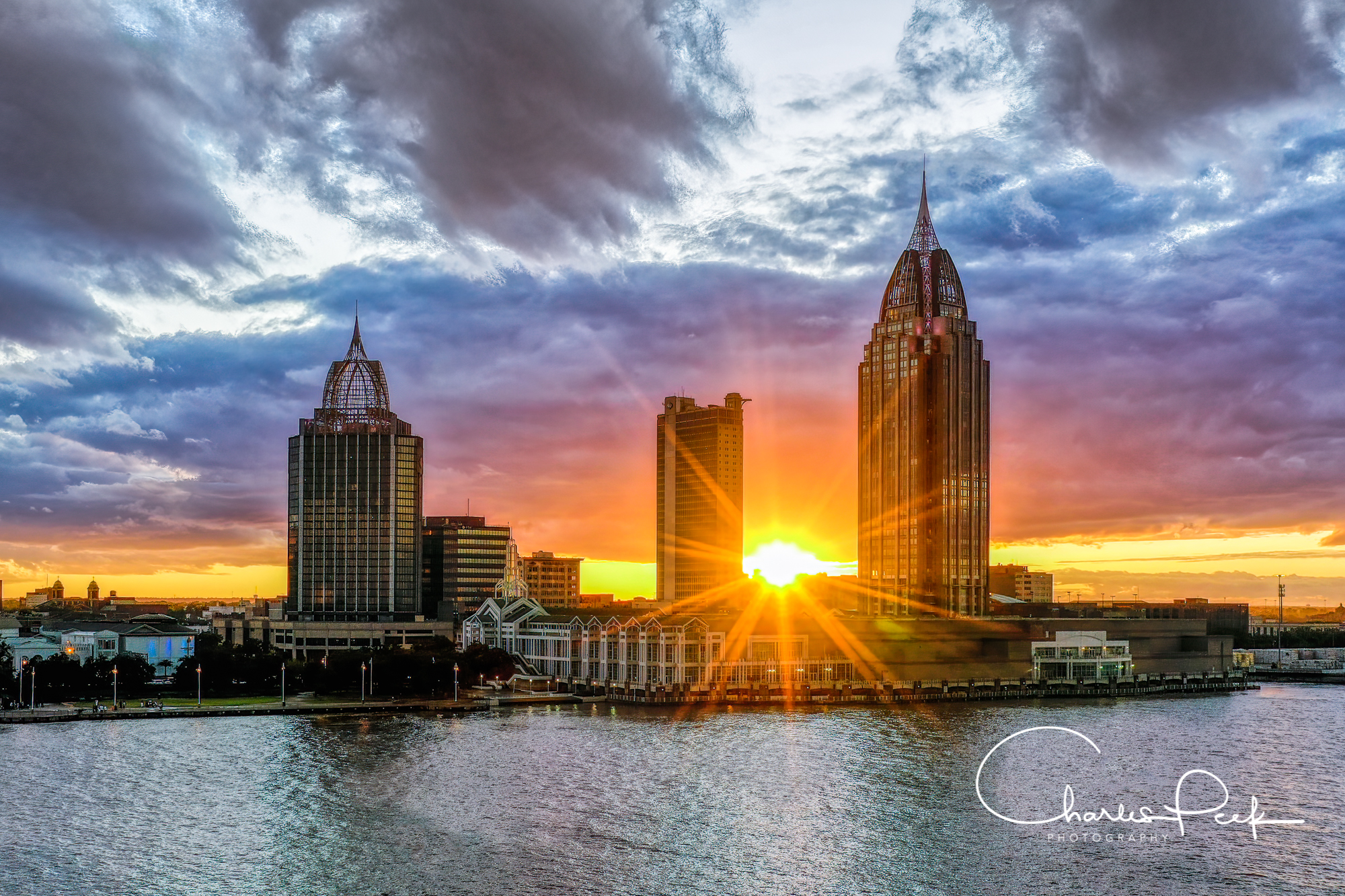 NASA Nerdology 
Tonight marks the summer solstice. That means the northern hemisphere is tilted toward the sun more than any other day of the year. That also means we get more daylight hours than any other day of the year. Here on the plateau, that means 14 hours, 36 minutes, and eight seconds worth! After today, daylight hours start getting shorter. Tomorrow's daylight, for instance, drops by one second to 14 hours, 36 minutes, and seven seconds.
Sunday Story
Eclipse
On the morning of June 10th, many folks in the eastern U.S. were treated to a sunrise solar eclipse. What a treat that was!
For our area, we could have seen the sun covered by about 10%, but clouds obscured our view. It always amazes me how something thousands of years in the making can be obscured by a few low clouds passing by.
Eclipses at sunrise or sunset create stunning pictures of a sun low on the horizon, with what appears to be a "pac-man" looking bite out of it.
A solar eclipse is what we had on the plateau back in August of 2017. The Moon comes between the Earth and the Sun, causing part of the sun to be blocked by the Moon. In order to get the full effect of the eclipse, you must be where there is 100% totality; not even 99% will do.
Even though the Moon is 400 times smaller than the sun, the close proximity of it to Earth makes it seem about the same size as the sun in our sky.
If a total eclipse occurs during the day, it can cause temperatures to drop.Oftentimes, a cool breeze even develops, due to the temperature differences between nearby areas that are not completely shaded, keeping them warmer than areas within the total eclipse.
The next total eclipse occurs in April 2024 from the southern plains to New England. It will occur during the peak of severe weather season. One can't help but wonder what effect an eclipse would have on a severe weather situation? Would storms suddenly weaken, or would they suddenly strengthen? Perhaps we'll find out!
In the past, people feared eclipses because they didn't understand them. Today, science has made us less afraid of an eclipse, allowing us to enjoy the bizarre treat from nature.  
You all have a great day and keep lookin' up!
Note: To offer support to Meteorologist Mark and his educational outreach programs, please consider giving via https://www.paypal.com/paypalme/meteorologistmark. If you can't give, no worries! Just keep following and tell your friends!
Please feel free to "Follow" me on Social Media!
Facebook @meteorologistmark
Twitter @meteo_mark
Instagram @MeteorologistMark