Note: I will issued updates, as needed, today and tonight.
Weather Headlines 
A chance for storms today
Rain and storms likely tonight (some could be severe)
A very nice Tuesday afternoon & Wednesday
Meteorologist Mark's Wx Vlog 
Seven-Day Forecast
Daily Forecast 
Today: Mostly cloudy. Hot and humid. A chance for showers and storms, becoming likely this evening and overnight.
Tuesday: Rain moves out in the morning. Skies clear by afternoon. Lower humidity and cooler temps.
Wednesday: Mostly sunny and lower humidity. Pleasant.
Thursday: Mostly sunny. Humidity begins increasing.
Friday: A chance for showers and storms.
Saturday & Sunday: Scattered showers and storms.
Hay Weather Forecast
Right now, next weekend looks awful for hay weather. I'll keep an eye on that, though. Try to get done what you can this week from Tuesday afternoon to Thursday. According to the planting calendar found farther down in the blog, this week is good for cutting hay! The chance is low, but a system could bring us some rain Thursday night. I'll watch that, too.
Forecast Discussion
A strong cold front for this time of year will bring showers and storms to us by tonight. This front produced some wild weather across the Midwest last night, as those of you who follow me on Facebook saw. Our atmosphere won't support storms of that caliber, but we certainly have a chance for some intense storms to develop in the area. Stay weather aware this afternoon through early evening.
Meteorologist Mark's Wx Concerns
The main threat for severe storms comes after 3:00 pm, as it looks right now.
The Storm Prediction Center has placed our region in the marginal risk for severe storms for today and tonight.
Almanac for Yesterday
Tropics 
The tropics remain active for this time of year! Claudette has re-strengthened and is now a tropical storm again. It will remain a storm as it races across the Atlantic over the next 48 to 72 hours.
Yet another area is worth keeping an eye on in the southern Atlantic. We have plenty of time to watch that, though.
Sun & The Moon
Planting by the Moon in June
On This Day in Wx History
2005 – A slow-moving thunderstorm dumped up to a foot of hail in southeastern portions of Colorado Springs, Colorado. Snowplows had to be used to clear a route through a major thoroughfare in the city. Heavy rainfall from the storm left up to 4 feet of water in city streets, trapping dozens of motorists.
Yesterday's National Temperature Extremes
High:  124° at Death Valley, California
Low:   31° at Mackay, Idaho 
Monday Sun Day
Approximately 1.3 million Earth's would fit into the sun! It's hard to even wrap our minds around that.
The sun is 860,000 miles in diameter. For perspective, it's about 1,000 miles from here to Amarillo, Texas.
Today's Tennessee Weather 
Showers and thunderstorms will develop throughout the day. By evening and overnight, showers and storms will be likely for everyone, thanks to the passage of a cold front. Some of those storms could be severe, with damaging straight-line winds and flash flooding being the main threats with any storm.
Tonight's Tennessee Weather 
Rain and storms continue overnight. Again, some of those storms could contain flash flooding, along with a damaging wind gust. Total rainfall amounts of 1-2 inches should be common for everyone by Tuesday morning, with localized higher amounts possible.
Tomorrow's Tennessee Weather 
Clouds and showers move east during the day, with skies clearing from west to east. Northerly breezes will usher in a cooler, less humid air mass that will feel quite pleasant!
Drought Monitor
The drought monitor is updated each Thursday.
Weather SnapShots
Storm Chaser @Chancelot came upon this scene while storm chasing in Iowa yesterday. We're pretty sure these folks weren't storm chasing but who knows? haha!
NASA Nerdology 
In June of 1928, pilot Amelia Earhart became the first woman to fly across the Atlantic as a passenger aboard an aircraft. The Fokker tri-motor aircraft she traveled in was piloted by Wilmer Stulz and Louis Gordon.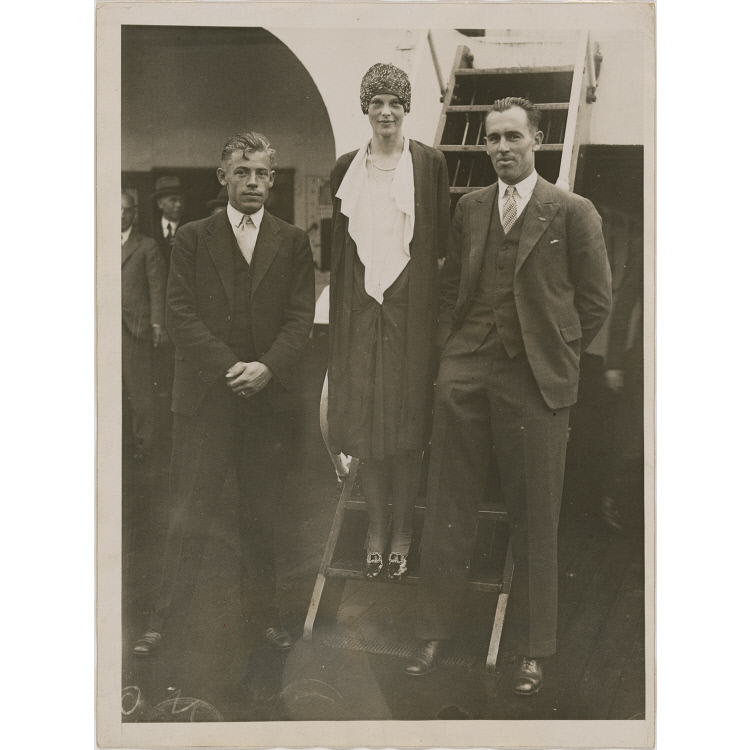 You all have a great day and keep lookin' up!
Note: To offer support to Meteorologist Mark and his educational outreach programs, please consider giving via https://www.paypal.com/paypalme/meteorologistmark. If you can't give, no worries! Just keep following and tell your friends!
Please feel free to "Follow" me on Social Media!
Facebook @meteorologistmark
Twitter @meteo_mark
Instagram @MeteorologistMark