The final day of June 2021!
Weather Headlines 
Holiday weekend now looking NICE!
Rain & storms likely Thursday
Watching the tropics
Meteorologist Mark's Wx Vlog 
Seven-Day Forecast
Daily Forecast 
Today: Partly to mostly sunny, with scattered mainly afternoon and evening showers and thunderstorms.
Thursday: Scattered showers and thunderstorms.
Friday: Partly to mostly cloudy, with scattered showers and thunderstorms.
Saturday & Sunday: Mostly sunny. Low humidity. Very nice!
Monday & Tuesday: A bit more humid, but continued mostly sunny.
Hay Weather Forecast
Forecast Discussion
The front that will push through here Thursday will set the stage for one of the nicest Fourth of July weekends I think I've ever seen us have! Low humidity and highs in the 70s will feel quite nice!
Meteorologist Mark's Wx Concerns
The Storm Prediction Center has NOT highlighted our area in any threat, but keep in mind that storms this time of year can become quite strong. Gusty winds, cloud-to-ground lightning, and very heavy rainfall are possible with any storm that develops today and tomorrow. Be safe.
Almanac for Yesterday
Tropics 
The tropics are looking very concerning. The red-dashed area is of greatest concern. This is still a long ways out, but it is certainly something many of us will be tracking!
Sun & The Moon
Planting by the Moon
30th – 30th Cut hay or do plowing on this barren day.
July
1st – 2nd A barren period.
3rd – 4th Good days for transplanting. Root crops that can be planted now will yield well.
5th – 7th Poor days for planting, seeds tend to rot in ground.
8th – 9th Plant seedbeds and flower gardens. First day is a good day for transplanting. First day is also most fruitful day for planting root crops. Second day is most favorable for corn, cotton, okra, beans, peppers, eggplant, and other aboveground crops
10th – 14th A most barren period. Kill plant pests and do general farm work.
15th – 16th Sow grains and forage crops. Plant flowers. Favorable for planting peas, beans, tomatoes, and other fall crops bearing aboveground.
On This Day in Wx History
1952- Temperature at Nashville reaches 106, marking the 8th consecutive day of 100+ degree readings, a record.
Yesterday's National Temperature Extremes
High:  121° at Death Valley, California
Low:   28° at Albany, Wyoming 
Wednesday Weather Wisdom
The atmosphere keeps our planet warm through a process called the Greenhouse Effect. Heat from the sun penetrates our atmosphere as shortwave radiation. That short-wave radiation is what leaves the sun. That radiation strikes the Earths' surface and then "bounces" off the surface as longwave radiation. Some of that longwave radiation gets trapped by the atmosphere. That radiation keeps us warmer at night than we would otherwise be. Planets with no atmosphere have dramatic heating during the day, followed by dramatic cooling at night. Our atmosphere acts as a blanket, of sorts. Shortwave radiation can move through the atmosphere more easily than longwave.
Today's Tennessee Weather 
A hot and humid June Wednesday is in store for Tennessee. That heat and humidity will lead to scattered showers and thunderstorms, especially in the afternoon and evening. A few of the storms could be strong. Afternoon highs will climb into the mid to upper 80s. Be safe if you're outside in the hottest part of the day.
Tonight's Tennessee Weather 
A warm and muggy night will lead to a few showers and thunderstorms across the state. Otherwise, look for partly to mostly cloudy skies, with low temperatures around 70 degrees.
Tomorrow's Tennessee Weather 
A cold front charges in from the west! That will lead to a near 100% chance for showers and thunderstorms statewide. With clouds and rain, afternoon highs will generally only be in the low to mid 80s across the area. A few of the storms could be strong, but widespread severe weather is not expected with this frontal passage.
Drought Monitor
The drought monitor is updated each Thursday.
Weather SnapShots
A weather camera in southern Middle TN had a guest ready for their Hollywood debut! (haha) Why does this remind me of Bigfoot?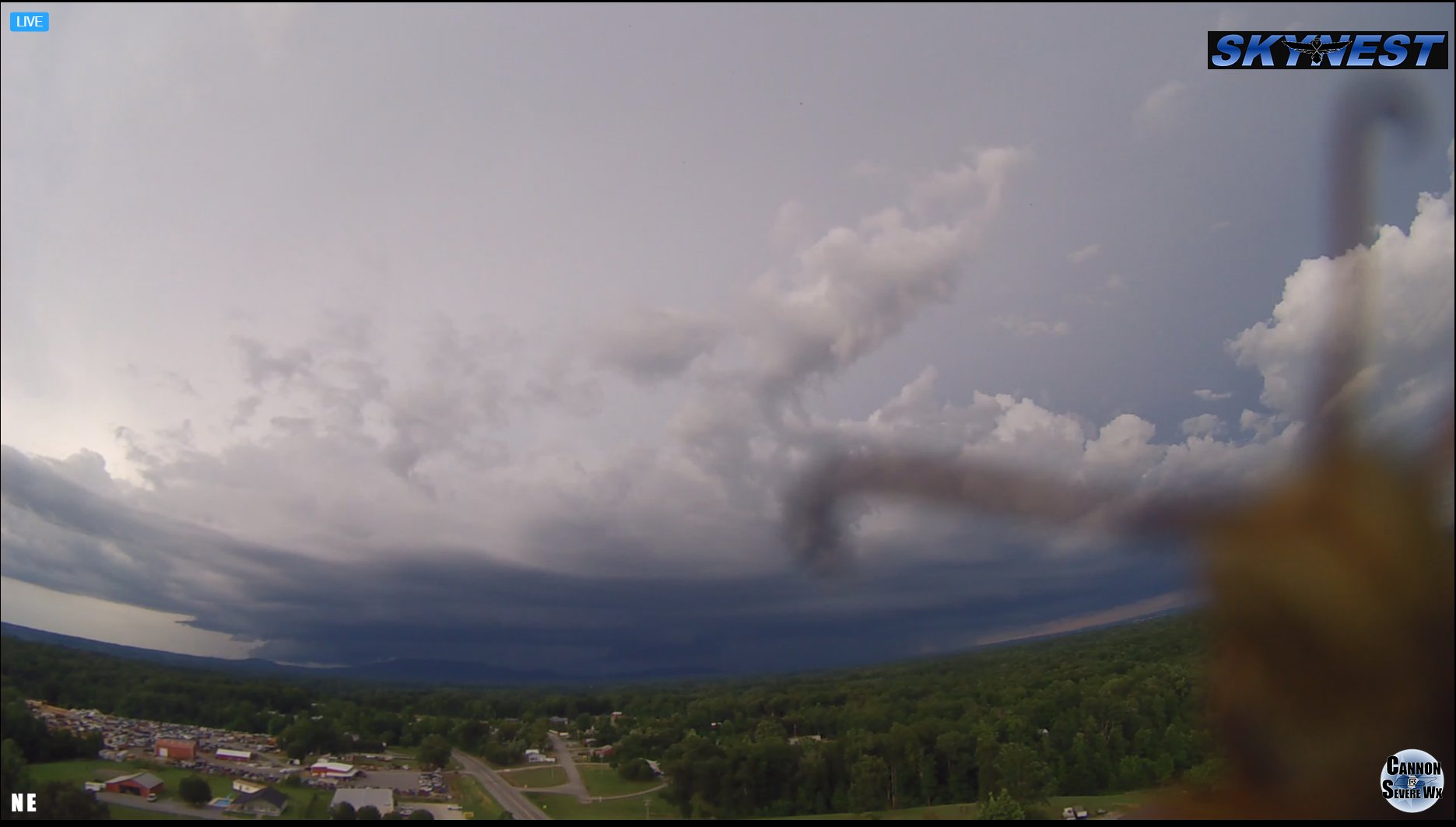 NASA Nerdology 
During this week in 1965, Joe Engle piloted the X-15-2 research aircraft over 50 miles above the Earth's surface, which qualified him for astronaut wings under the US Air Force definition. Joe is the only person who had flown in space before his selection as a NASA astronaut in 1966.
You all have a great day and keep lookin' up!
Note: To offer support to Meteorologist Mark and his educational outreach programs, please consider giving via https://www.paypal.com/paypalme/meteorologistmark. If you can't give, no worries! Just keep following and tell your friends!
Please feel free to "Follow" me on Social Media!
Facebook @meteorologistmark
Twitter @meteo_mark
Instagram @MeteorologistMark