Weather Headlines 
Heating up but staying dry for the Fourth of July
Next good rain chance comes Wednesday
Watching Elsa as she moves toward the Gulf of Mexico
Meteorologist Mark's Wx Vlog 
Seven-Day Forecast
Beginning today, I'll stop rounding off temps and being more specific. Keep in mind, your location will likely be a degree or two off from any forecast high or low.
Daily Forecast 
Today & Tomorrow: Mostly sunny and hot. Continued low humidity and dry.
Tuesday: Mostly sunny, with a slight chance for a shower or storm.
Wednesday: Partly cloudy, with scattered showers and storms, especially in the afternoon and evening.
Thursday: Showers and thunderstorms likely. Rain is most likely in the afternoon/evening.
Friday: Partly to mostly cloudy, with scattered showers and thunderstorms, especially in the afternoon/evening.
Saturday: Mostly cloudy. Showers and thunderstorms likely.
Hay Weather Forecast
Today and tomorrow look absolutely fantastic for working in hay. As we get to Tuesday, one or two storms will probably develop on the plateau. The areal coverage of that activity should stay around 10-15% of the plateau. That's not a reason not to work in hay, but you will take a bit of a chance.
By Wednesday, afternoon storms will develop and they will drop rain on half the plateau.
On Thursday, I think we'll all see some rain by the end of the day, but mainly with afternoon storms that fire off. The morning may just be warm, humid, and rain-free.
On Friday, afternoon storm coverage drops to half of us getting wet again, but rain chances could linger into the night and then into Saturday morning, with even more storm activity firing off again in the afternoon on Saturday. Therefore, Saturday is looking wetter from morning to evening. That's is many days away and that could change, of course.
Meteorologist Mark's Wx Concerns
Almanac for Yesterday
Rcord low of 52 set yesterday!
Tropics 
Tropical Storm Elsa is a confusing storm this Sunday morning. The latest hurricane hunter data is all over the place. I'm not even sure we know where the center is. There appears to be more than one! While that's not incredibly uncommon, it does make forecasting the track and intensity more complicated.
Never the less, confidence remains rather high that Elsa will hit somewhere on the western peninsula of Florida as a tropical storm Tuesday night. Impacts of rain and wind will likely arrive much earlier in the day Tuesday.
The map below shows expected wind impacts. Those of you with vacation plans to the panhandle of Florida (ie. Panama City, Destin) are fine. The same is true for Gulf Shores, Alabama. Those of you with plans to the coasts of Georgia, South Carolina, or North Carolina next week can look for at least one rainy and breezy day, but nothing to cancel travel plans over.
Sun & The Moon
Planting by the Moon 
On This Day in Wx History
1776 – Thomas Jefferson paid for his first thermometer, and signed the Declaration of Independence. According to his weather memorandum book, at 2 PM it was cloudy and 76 degrees.
Yesterday's National Temperature Extremes
High:  115° Topock, Arizona
Low:   32° at Peter Sinks, Utah 
Drought Monitor
The drought monitor is updated each Thursday.
Weather SnapShots
This was taken yesterday at Rein, Saskatchewan, Canada. How gorgeous is that?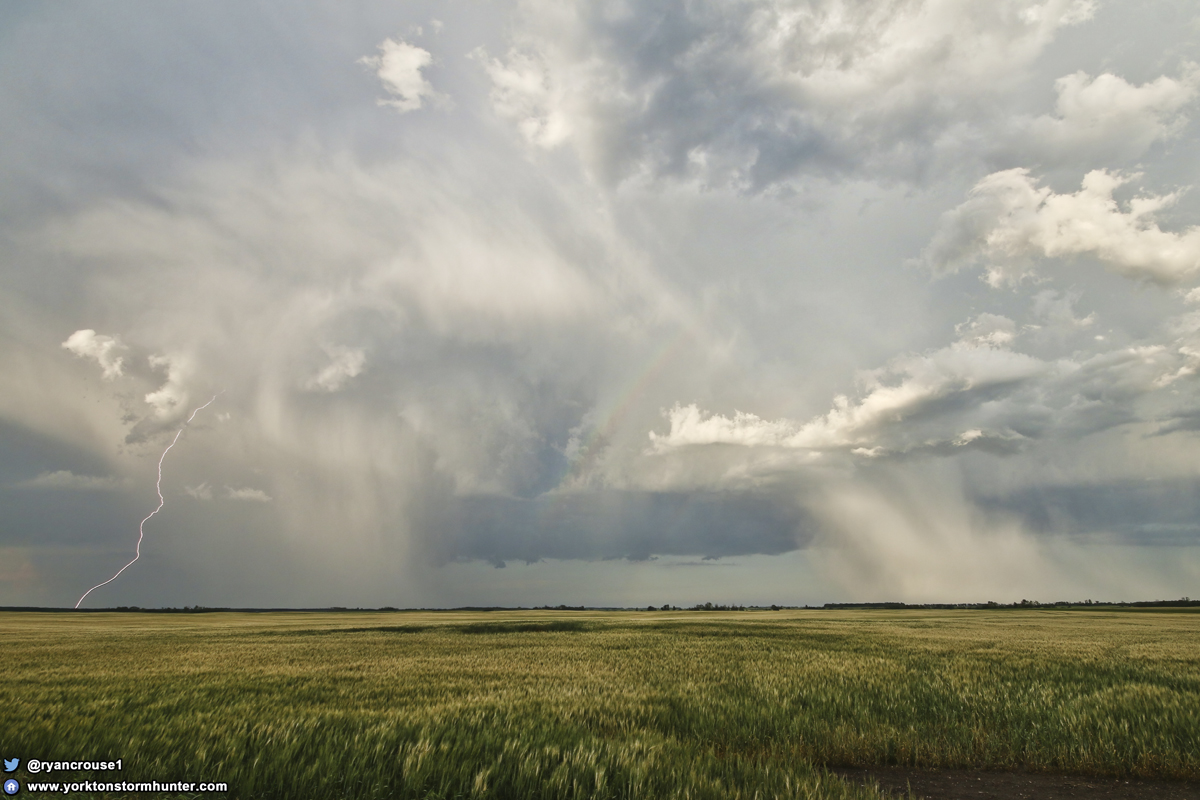 NASA Nerdology 
One of the prettiest places to see Old Glory is on the Vehicle Assembly Building on NASA's campus. That flag is 209 feet tall and 110 feet wide. The stripes are nine feet wide and the stars are six. It is the largest American Flag on anything!
Sunday Story
Meteorology involves a lot of averaging. Average high and low temperatures, rainfall, last frost, first freeze, and so on.
In meteorology, averages are calculated over a 30-year period of time. To get an average high temperature for July, you first, for example, take the high temperatures for every July first over the past 30 years. You add those up and then divide by 30. That gives you the average high temperature for July first. 
To get the averages for any day this year, we start in 1991 to get the 30-year average. Next year, we'll start with 1992.
As time goes on, our averages are liable to change. That takes time. Even if you have an especially warm year, for example, it still may not affect the average high. On the other hand, if you have several really warm years in a row, the average will start to rise.
Rainfall seems to cause the greatest amount of confusion. I can't count how many times this spring that I've heard, "If we're below average on rainfall, then why is it so wet right now?"
When last year ended, we had a huge rainfall surplus. When the new year began, we went back to zero. We've been right around average to below average on rainfall ever since. 
According to the 30-year average, we're at least three inches below normal here at the end of June.That's because we have had a lot of dry spells since January. We've seen spring rainfall, but it hasn't been enough to catch us up just yet.
Across the western US, many states are well below average on rainfall. In fact, some areas are historically hot and dry, based on the 30-year averages.
Averages are helpful but they can be hard to understand. Hopefully, this makes that concept a little more clear!
You all have a great day and keep lookin' up!
Note: To offer support to Meteorologist Mark and his educational outreach programs, please consider giving via https://www.paypal.com/paypalme/meteorologistmark. If you can't give, no worries! Just keep following and tell your friends!
Please feel free to "Follow" me on Social Media!
Facebook @meteorologistmark
Twitter @meteo_mark
Instagram @MeteorologistMark