Weather Headlines 
A forecast that is trending wetter
Any storm that develops could be strong
The latest drought update is out
Meteorologist Mark's Wx Vlog 
Seven-Day Forecast
Daily Forecast 
Today: Mostly cloudy, with scattered showers and thunderstorms, especially in the afternoon and evening.
Friday: A good chance for morning storms, followed by a chance for showers and storms in the afternoon and evening.
Saturday & Sunday: Scattered showers and thunderstorms likely.
Monday – Wednesday: Partly cloudy, with scattered mainly afternoon and evening showers and thunderstorms.
Hay Weather Forecast
Some of our more reliable guidance indicates a good chance for a line of storms to move through in the morning. That's been trending in some guidance but is now showing up in even more guidance. That would really dampen the hay fields to start the day Friday. That is followed by 50% rain chances in the afternoon and evening. I'm just not sure anything can get done in the hay fields for many of you tomorrow. I'll keep an eye on that.
The weekend is looking wetter, too. Rain chances are high in both the morning and evening hours. That will keep many of you out of the hay fields. I wish I could say next week is trending drier but it is not, at least not at this point. Look for continued 50/50 shots at rain, mainly in the afternoon/evening.
Meteorologist Mark's Wx Concerns
Almanac for Yesterday
Tropics 
Elsa has been inland for some time now, but remains a low-end tropical storm. As the storm moves northeast, atmospheric conditions will become very favorable for strengthening. That strengthening storm will then move into coastal New England, bringing torrential rainfall and very gusty winds. This could be quite the storm for both coastal areas of the Mid-Atlantic and Northeast! Residents there are being urged to prepare for widespread, long-duration power outages.
Sun & The Moon
Planting by the Moon
8th – 9th Plant seedbeds and flower gardens. First day is a good day for transplanting. First day is also most fruitful day for planting root crops. Second day is most favorable for corn, cotton, okra, beans, peppers, eggplant, and other aboveground crops
10th – 14th A most barren period. Kill plant pests and do general farm work.
15th – 16th Sow grains and forage crops. Plant flowers. Favorable for planting peas, beans, tomatoes, and other fall crops bearing aboveground.
17th – 18th Start seedbeds. Extra good for fall cabbage, lettuce, cauliflower, mustard greens, and other leafy vegetables. Good for any aboveground crop that can be planted now.
19th – 20th Barren days, neither plant nor sow.
21st – 22nd Any aboveground crops that can be planted now will do well.
23rd – 24th Good days for killing weeds, briars, and other plant pests. Poor for planting.
25th – 27th Set strawberry plants. Good days for transplanting. Good days for planting beets, carrots, radishes, salsify, turnips, peanuts, and other root crops. Also good for vine crops.
28th – 29th A barren period.
On This Day in Wx History
1816 – Frost was reported in low places throughout New England.
Yesterday's National Temperature Extremes
High:  126° at Death Valley, California
Low:   42° at Peter Sinks, Utah 
Thirsty Thursday
The average American uses 2,000 gallons of water a day.
The average African FAMILY uses 5.
Today's Tennessee Weather 
We'll see both clouds and sun in our Tennessee skies for today, with those clouds developing into showers and thunderstorms for some of us by this afternoon and evening. That rain chance is at about 50% statewide. Expect a warm and humid day, with highs in the mid to upper 80s, except on the plateau and upper East Tennessee, where more cloud cover should keep high temperatures in the lower 80s.
Tonight's Tennessee Weather 
Showers and thunderstorms may linger into the evening hours, with much of that activity dissipating by midnight. Otherwise, look for partly to mostly cloudy skies and humid conditions overnight, with lows near 70 for most.
Tomorrow's Tennessee Weather 
The pattern changes little from Thursday to Friday, so we can expect more of the same. It will be a warm and humid day, with a 50% chance for showers and thunderstorms, especially in the afternoon and evening. Look for high temperatures in the mid to upper 80s statewide.
Drought Monitor
The drought monitor is updated each Thursday. Here's the latest maps!
Weather SnapShots
@Coach_Faircloth took this picture yesterday. Look at those tropical downpours falling out at sea.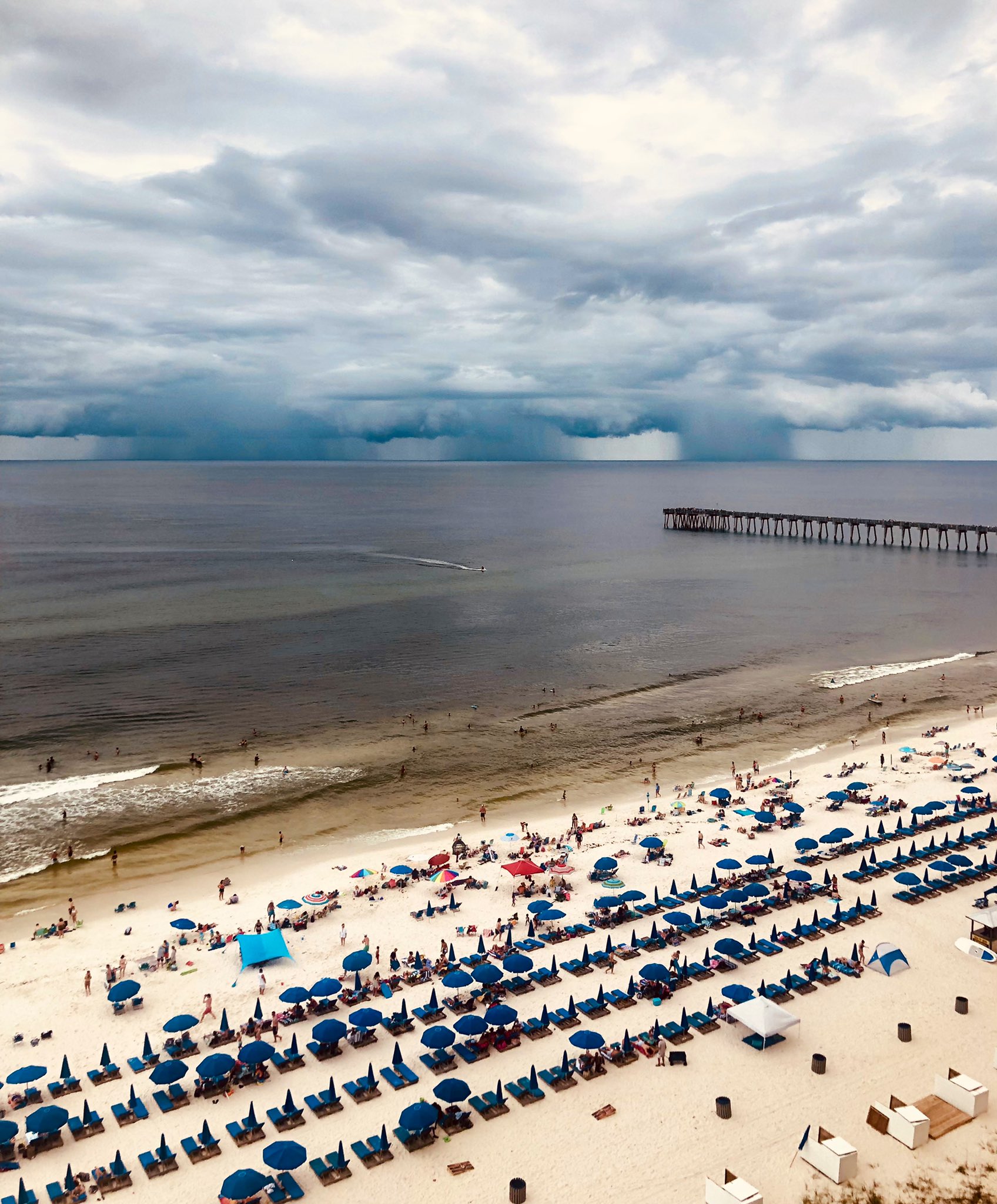 NASA Nerdology
The view of the Moon from the International Space Station. Just wow…
You all have a great day and keep lookin' up!
Note: To offer support to Meteorologist Mark and his educational outreach programs, please consider giving via https://www.paypal.com/paypalme/meteorologistmark. If you can't give, no worries! Just keep following and tell your friends!
Please feel free to "Follow" me on Social Media!
Facebook @meteorologistmark
Twitter @meteo_mark
Instagram @MeteorologistMark