Friday Funny
MM News
Mark your calendars for July 27 at 4:00! That will be the next Meteorologist Mark science class for kids! The topic this month will be flooding. Registration is required and that sign-up sheet can be found at https://docs.google.com/forms/d/e/1FAIpQLSfV5IY9mADWj0XfnXO1YYJKjOP5QLjurGJKUTZI3vUZMRr5Jw/viewform. The class is sponsored by TCAT. To support the educational outreach programs of MM or the maintenance of this site, find the donate button on this page or scroll to the bottom of this page for the Paypal link. Thank you!
Radar & Wx Alerts Link
Radar can be found here:
https://www.wunderground.com/maps/radar/current/bwg
Weather alerts can be found here:
https://www.wunderground.com/wundermap
Weather Headlines
Rain chances increasing again
Showers & thunderstorms likley over the weekend
Trending drier by middle of next week
Meteorologist Mark's Wx Vlog 
Seven-Day Forecast
Daily Forecast
Today: Partly cloudy, with scattered afternoon and evening showers and thunderstorms.
Saturday – Sunday: Mostly cloudy, with showers and thunderstorms likely. Heavy rainfall is possible.
Monday: Mostly cloudy, with scattered showers and thunderstorms.
Tuesday: Partly to mostly sunny, with a chance for a mainly afternoon/evening shower or storm.
Wednesday – Thursday: Partly cloudy, with just slight chances for an afternoon/evening shower or storm.
Hay Weather Forecast
Meteorologist Mark's Wx Concerns
Any thunderstorm that develops through Monday could produce very heavy rainfall, deadly lightning, and gusty winds. Those winds could even become locally severe.
Almanac for Yesterday
Tropics
The tropics are still sound asleep…..
Sun & The Moon
Planting by the Moon
16th Sow grains and forage crops. Plant flowers. Favorable for planting peas, beans, tomatoes, and other fall crops bearing aboveground.
17th – 18th Start seedbeds. Extra good for fall cabbage, lettuce, cauliflower, mustard greens, and other leafy vegetables. Good for any aboveground crop that can be planted now.
19th – 20th Barren days, neither plant nor sow.
21st – 22nd Any aboveground crops that can be planted now will do well.
23rd – 24th Good days for killing weeds, briars, and other plant pests. Poor for planting.
25th – 27th Set strawberry plants. Good days for transplanting. Good days for planting beets, carrots, radishes, salsify, turnips, peanuts, and other root crops. Also good for vine crops.
28th – 29th A barren period.
On This Day in Wx History
1980- Crossville's 101 degrees sets a record high for July. This is the first time the temperature has ever officially reached triple digits at Crossville.
Yesterday's National Temperature Extremes
High: 119° at Death Valley, California
Low: 33° at both Choteau, Montana and Toponas, Colorado
Today's Tennessee Weather
It's a hot and humid end to the workweek in Tennessee. Scattered afternoon and evening thunderstorms will bring relief from the heat for many of us. Those rain chances vary from about 50% in the west, to around 30% in the east. Afternoon highs will climb to near 90 degrees statewide.
Tonight's Tennessee Weather
A warm and muggy night will likely support a few showers and thunderstorms into the night. Overnight lows will be near 70 degrees.
Tomorrow's Tennessee Weather
Showers and thunderstorms are likely for everyone for Saturday. Some of the thunderstorms could produce heavy rainfall, deadly lightning, and gusty winds. Cloudier skies and increasing rain chances will keep high temps in the 80s.
Drought Monitor
The drought monitor is updated each Thursday.
Weather SnapShots
John Sirlin (@SirlinJohn) captured this phenomenal shot in Arizona this week! Monsoon season has certainly begun out that way! John writes, "A barrage of cloud-to-ground lightning illuminated the rugged desert mountains, as an isolated storm drifted across Lake Mead last night." Nice catch, John!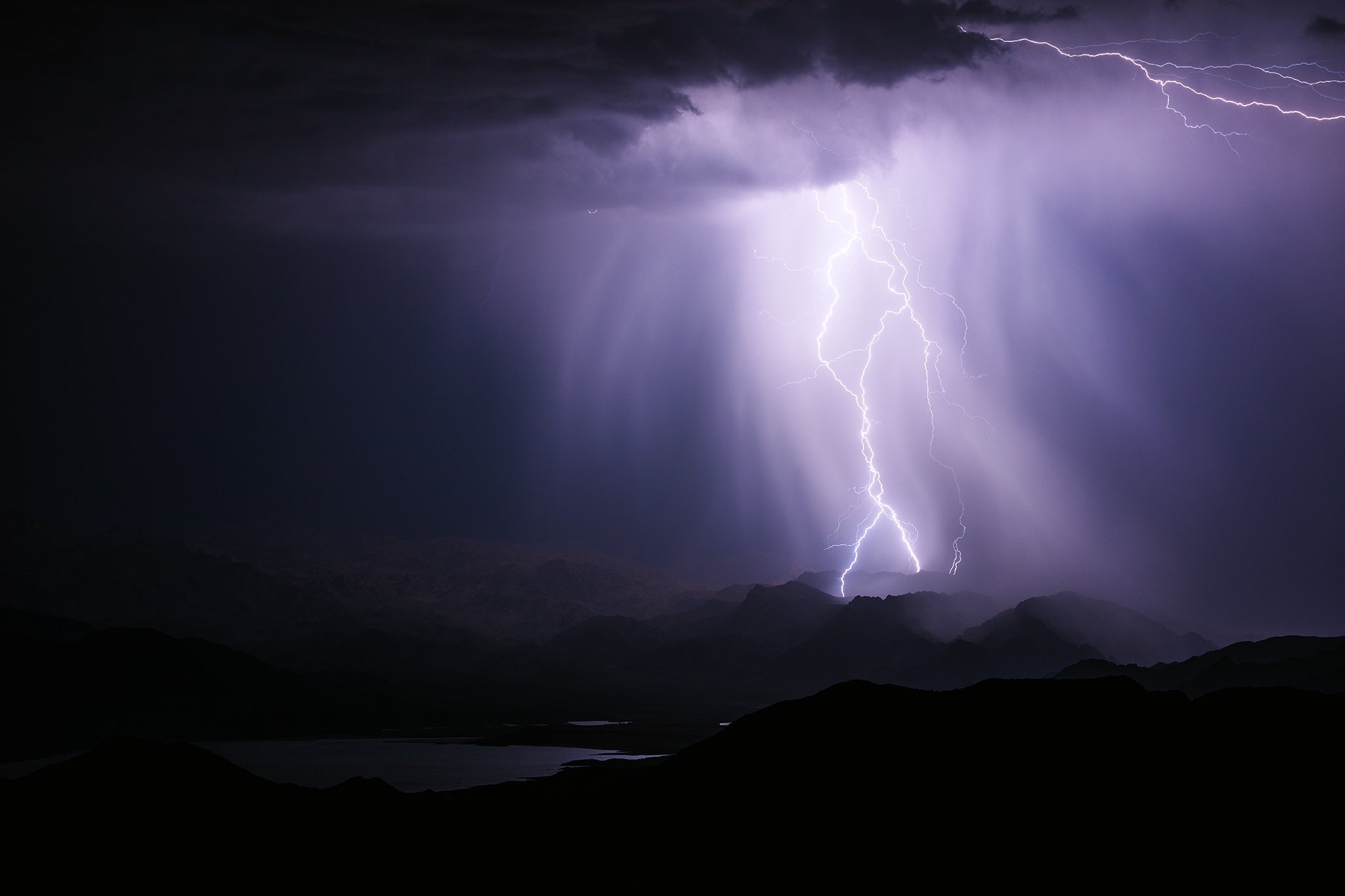 NASA Nerdology
In July of 2015, New Horizon's made its closest approach to Pluto, about 7,750 miles above the surface.
Just 15 minutes after its closest approach to Pluto on July 14, 2015, NASA's New Horizons spacecraft looked back toward the sun and captured this near-sunset view of the rugged, icy mountains and flat ice plains extending to Pluto's horizon. The smooth expanse of the informally named icy plain Sputnik Planum (right) is flanked to the west (left) by rugged mountains up to 11,000 feet (3,500 meters) high.
You all have a great day and keep lookin' up!
Note: To offer support to Meteorologist Mark and his educational outreach programs, please consider giving via https://www.paypal.com/paypalme/meteorologistmark. If you can't give, no worries! Just keep following and tell your friends!
Please feel free to "Follow" me on Social Media!
Facebook @meteorologistmark
Twitter @meteo_mark
Instagram @MeteorologistMark