MM News
Radar & Wx Alerts Link 
Radar can be found here:
https://www.wunderground.com/maps/radar/current/bwg
Weather alerts can be found here:
https://www.wunderground.com/wundermap
Weather Headlines 
A wet Sunday for most
Turning drier by midweek
Increasing rain chances to end the week
Meteorologist Mark's Wx Vlog 
Note: If the straw hat is on, you can make hay. If the hat is off, there's no making hay that day. 🙂
Seven-Day Forecast
Daily Forecast 
Sunday: Mostly cloudy, with showers and thunderstorms likely. Heavy rainfall is possible.
Monday: Mostly cloudy, with a good chance for showers and thunderstorms.
Tuesday: Partly to mostly sunny, with a chance for a mainly afternoon/evening shower or storm.
Wednesday: Mostly sunny.
Thursday: Partly to mostly sunny, with just a slight chance for a mainly afternoon/evening shower or storm.
Friday & Saturday: Partly cloudy, with scattered mainly afternoon/evening showers and thunderstorms.
Hay Weather Forecast
Meteorologist Mark's Wx Concerns
Just be careful if lightning is around. Always seek shelter if you hear thunder.
Almanac for Yesterday
Tropics 
The tropics remain quiet…..
Sun & Moon
Planting by the Moon 
18th Start seedbeds. Extra good for fall cabbage, lettuce, cauliflower, mustard greens, and other leafy vegetables. Good for any aboveground crop that can be planted now.
19th – 20th Barren days, neither plant nor sow.
21st – 22nd Any aboveground crops that can be planted now will do well.
23rd – 24th Good days for killing weeds, briars, and other plant pests. Poor for planting.
25th – 27th Set strawberry plants. Good days for transplanting. Good days for planting beets, carrots, radishes, salsify, turnips, peanuts, and other root crops. Also good for vine crops.
28th – 29th A barren period.
On This Day in Wx History
1980- An oppressive heat wave produces the 5th of six consecutive daily record highs at Crossville. The high today hits 96 degrees.
Yesterday's National Temperature Extremes
High:  119° at Death Valley, California
Low:   30° at Stanley, Idaho 
Sunday Story
Lightning
July is the month with the most lightning strikes in the US. Each bolt contains enough electricity to power 56 average-sized homes for a whole day!
Lightning is the product of one of Nature's imbalances. The ice crystals in the top of a thundercloud are positively charged, while the liquid water droplets in the base of the cloud are negatively charged. When the two areas of charges become imbalanced, a lightning strike occurs to balance out the charges.
Of most interest to us is the imbalance that occurs between the negative charges in the base of the cloud and the positive charges on the ground below. That imbalance of charges leads to cloud-to-ground lightning strikes. That's the strikes that can prove deadly for us.
During the summer months, distant thunderheads can often be seen from the plateau. We are fortunate to have such a view! There have been times when I've spotted the lightning from thunderstorms as far away as South Carolina!
Many folks refer to that distant lightning as "heat lightning." It's called that because it's most common during hot and humid nights. The lightning is not caused by heat. It's simply lightning that is occuring in thunderstorms that are so far away that we can't hear the thunder. Light travels much farther and faster than sound, making those distant lightning shows both beautiful and harmless.
Storms that are close enough for you to hear thunder are not harmless. If you can hear that thunder, you are close enough to be struck by that deadly lightning. There have been documented lightning strikes that have traveled as far as 30 miles from their thunderstorm!
Summer is a time of great outdoor fun, but we must always be mindful of any dark storm clouds that may gather nearby.
Drought Monitor
The drought monitor is updated each Thursday.
Weather SnapShots
I took this picture last week, as storms were rolling by to my west.
NASA Nerdology 
This past week marked the 52nd anniversary of the Apollo 11 launch. This was the launch that would land men on the Moon for the first time in human history.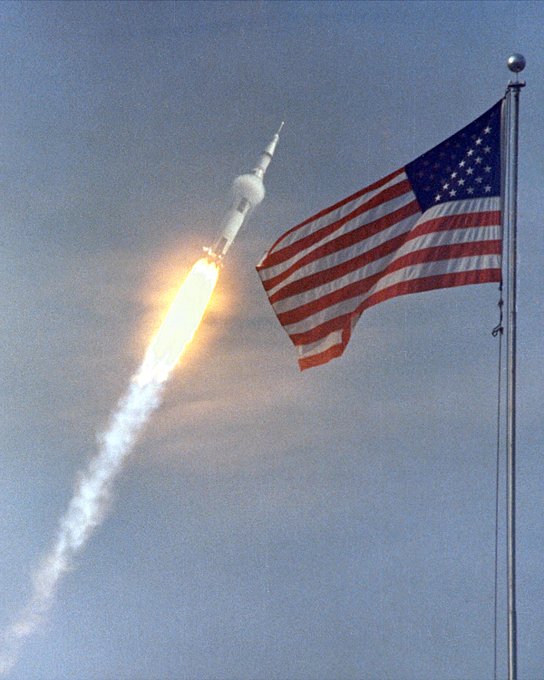 You all have a great day and keep lookin' up!
Note: To offer support to Meteorologist Mark and his educational outreach programs, please consider giving via https://www.paypal.com/paypalme/meteorologistmark. If you can't give, no worries! Just keep following and tell your friends!
Please feel free to "Follow" me on Social Media!
Facebook @meteorologistmark
Twitter @meteo_mark
Instagram @MeteorologistMark