Radar & Wx Alerts Link 
Radar can be found here:
https://www.wunderground.com/maps/radar/current/bwg
Weather alerts can be found here:
https://www.wunderground.com/wundermap
Weather Headlines 
Watching for Strong/Severe Storms Late Tonight
Heavy Rainfall Also Likely Overnight
Monitoring the Highway 127 Yard Sale Forecast
Meteorologist Mark's Wx Vlog
Seven-Day Forecast
Daily Forecast 
Today:  Partly to mostly sunny.
Tonight: Mostly cloudy, with showers and thunderstorms likely. Some storms could be severe and rainfall could be heavy.
Sunday: Mostly cloudy, with scattered showers & storms, especially the first half of the day.
Monday – Tuesday: Partly to mostly sunny.
Wednesday – Friday: Mostly sunny, with a chance for a shower or storm.
Hay Weather Forecast
127 Yard Sale Forecast
Farmer's Almanac Fishing Forecast 
Jul 31 Fair, but best in the morning
Aug 01 Fair, but best in the Morning (Just watch out for any storms that may be around)
Aug 02 Poor
Aug 03 Poor
Aug 04 Best in the Morning
Aug 05 Best in the Morning
Aug 06 Good in the Morning
Forecast Discussion
A potent system ill drop in from the northwest late tonight, bringing the chance for strong to severe storms. I'll keep a close eye on this through the day and nail down timing as more data comes in. Right now, the greatest threat looks to come after midnight.
Meteorologist Mark's Wx Concerns
Almanac for Yesterday
Tropics 
Sun & Moon
Planting by the Moon 
31st Good days for transplanting. Root crops that can be planted now will yield well.
August
1st Good day for transplanting. Root crops that can be planted now will yield well.
2nd – 3rd Any seed planted now will tend to rot.
4th – 6th Plant seedbeds and flower gardens. Good days for transplanting. Most favorable days for planting beets, onions, turnips, and other root crops.
7th – 10th Best for killing weeds, briars, poison ivy, and other plant pests. Clear wood lots and fencerows.
11th – 12th Excellent for sowing grains, winter wheat, oats, and rye. Plant flowers. Good days for planting aboveground crops.
13th – 14th Plant seedbeds. Plant peas, beans, tomatoes, peppers, and other aboveground crops in southern Florida, California, and Texas. Extra good for leafy vegetables.
15th – 17th Cut winter wood, do clearing and plowing, but no planting.
On This Day in Wx History
1976 – A stationary thunderstorm produced more than ten inches of rain which funneled into the narrow Thompson River Canyon of northeastern Colorado. A wall of water six to eight feet high wreaked a twenty-five mile path of destruction from Estes Park to Loveland killing 156 persons. The flash flood caught campers, and caused extensive structural and highway damage. Ten miles of U.S. Highway 34 were totally destroyed as the river was twenty feet higher than normal at times.
Yesterday's National Temperature Extremes
High:  111° at Richland, Washington
Low:   36° at both Choteau, Montana &  Pierce, Idaho
Saturday Silliness
Past 24-Hour Earthquake Activity 
The size of the dot indicates the magnitude of the quake. Larger dots equal bigger quakes. If the dot is red, that means it happened more recently. Orange dots represent quakes that occurred several hours ago.
Drought Monitor
The drought monitor is updated each Thursday.
Weather SnapShots
Charlie Kruschek (@strmchasinchuck) took this phenomenal photo of a shelf cloud illuminated by lightning Wednesday night over La Cross, Wisconsin.
NASA Nerdology 
During this week in 2008, NASA confirmed that at least one of the lakes on Saturn's moon Titan contained liquid hydrocarbons. This discovery made Titan the only other celestial body in our solar system to contain liquid on its surface at the time. Below is an artist's rendering of that lake.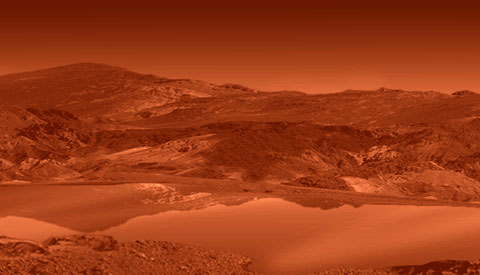 You all have a great day and keep lookin' up!
Note: To offer support to Meteorologist Mark and his educational outreach programs, please consider giving via https://www.paypal.com/paypalme/meteorologistmark. If you can't give, no worries! Just keep following and tell your friends!
Please feel free to "Follow" me on Social Media!
Facebook @meteorologistmark
Twitter @meteo_mark
Instagram @MeteorologistMark