MM News
On Wednesday evening at 7:00 p.m., several of us will be at Roane State Community College for an evening of stargazing! We'll have all sorts of telescopes available and I'll do my best to let you know what you're seeing. There will be a meteor shower, too, so that will be fun. Come out and join us for some stargazing fun!
Make sure you come by my booth in front of Hurricane Cycles (across from Crossville Depot) in Crossville Friday evening. I'll be set up for Friday at the Crossroads. Plus, I'll be set up by the Bigfoot Festival booth, where you can buy all kinds of cool festival merchandise for our October 16 festival! Come out and say hello!
This month brings an exciting new direction for MeteorologistMark.com. In the coming weeks, I'll be introducing a paid subscription service called MeteorologistMarkPro.com. This entire site has been 100% free for three years and that's simply not a sustainable model. The subscription will only be $6/month, or you can get two months free by purchasing an annual subscription at $60/year. The free site will remain here, but it will only be basic weather. For the exciting extras, you'll want to do the subscription with the Pro version.
The really exciting part is that proceeds will go toward both the maintenance of the sites (not cheap or free!) and toward the Meteorologist Mark Kid's classes. With the subscription, you'll also get a monthly newsletter that summarizes the previous month's weather with some cool meteorological insights and explanations, as well as contain a lesson for the kids, complete with an experiment, as well as interviews with both meteorology and space experts and so much more! I even have some inmates with my adult education class who would like to share stories from time to time. I'm so very excited about the newsletter and, frankly, I feel that it alone will be worth the money! So, stay tuned! Great things are coming from Meteorologist Mark!
Radar & Wx Alerts Link
Radar can be found here:
https://www.wunderground.com/maps/radar/current/bwg
Weather alerts can be found here:
https://www.wunderground.com/wundermap
Weather Headlines
Low Rain Chances for Next Several Days
Temps & Humidity Increase
Watching the Yard Sale Forecast
Meteorologist Mark's Wx Vlog 
Seven-Day Forecast
Daily Forecast
Today: Mostly sunny and pleasant.
Friday: Partly to mostly sunny, with a slight chance for showers & thunderstorms in the afternoon/evening.
Saturday: Partly cloudy, with scattered showers and thunderstorms developing in the afternoon.
Sunday: Partly to mostly sunny.
Monday – Wednesday: Partly cloudy, with scattered showers and thunderstorms developing in the afternoons.
Hay Weather Forecast 
Be aware that guidance has been trending wetter for Saturday. I may have to raise rain chances to 50% if that trend continues.
127 Yard Sale Forecast
Farmer's Almanac Fishing Forecast
Aug 05-06 Best in the Morning
Aug 07 – 12 Poor
Aug 13-14 Good in the Evening
Aug 15-17 Poor
Meteorologist Mark's Wx Concerns
Almanac for Yesterday
Tropics 
Things continue to look interesting in the tropics. It's unusual for the National Hurricane Center to be so concerned about a system that hasn't even moved off the coast of Africa yet, but there is definitely great concern for the orange-shaded area. That chance of development is already a whopping 60%. I'm not sure I've ever seen them give a system such a high chance of development without it even being in the ocean yet.
The other area of concern is a lesser concern but one that still bears watching. I'll keep an eye on it all and let you know how this all evolves.
Sun & Moon
Planting by the Moon
5th – 6th Plant seedbeds and flower gardens. Good days for transplanting. Most favorable days for planting beets, onions, turnips, and other root crops.
7th – 10th Best for killing weeds, briars, poison ivy, and other plant pests. Clear wood lots and fencerows.
11th – 12th Excellent for sowing grains, winter wheat, oats, and rye. Plant flowers. Good days for planting aboveground crops.
13th – 14th Plant seedbeds. Plant peas, beans, tomatoes, peppers, and other aboveground crops in southern Florida, California, and Texas. Extra good for leafy vegetables.
15th – 17th Cut winter wood, do clearing and plowing, but no planting.
On This Day in Wx History
1954- The temperature at Nashville reaches 97 degrees, the 27th consecutive day with 90+ degree readings. This is the 3rd longest such period in Nashville's history. In addition, the high temperature has reached at least 90 degrees on 58 out of the last 59 days.
Yesterday's National Temperature Extremes
High:  126° at Death Valley, California
Low:   33° at Peter Sinks, Utah 
Thirsty Thursday
Two percent of the Earth's water is freshwater, but 1.6% of that is locked in ice caps and glaciers.
Tracking the Fire and Smoke
Past 24-Hour Earthquake Activity
Today's Tennessee Weather
After some patchy morning fog, it will be a mostly sunny Thursday across Tennessee. It will be a warmer day than what we've seen recently, with afternoon highs climbing into the mid to upper 80s for everyone except the Cumberland Plateau and upper East Tennessee, where highs will only reach the lower 80s.
Tonight's Tennessee Weather
Clouds will slide across our night skies, but it will be a rain-free night. Overnight lows will fall into the 60s.
Tomorrow's Tennessee Weather
Skies on Friday will be filled with a few more clouds. Those clouds could lead to a few afternoon and evening showers and thunderstorms on the Cumberland Plateau and across East Tennessee. Higher humidity will make it feel more like August.
Drought Monitor
The drought monitor is updated each Thursday.
Weather SnapShots
The "weather Twitter" community lost a young meteorologist to a tragic accident last week. Yesterday was his service and storm chasers used their apps that track their vehicles to spell the initials JD across Minnesota. A touching tribute, to say the least.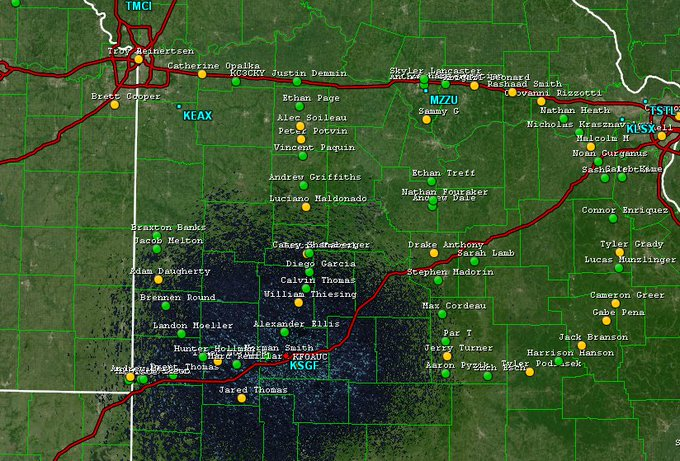 NASA Nerdology
Written in August of 1964, this petition urges the House to formally congratulate NASA on its successful Ranger VII flight. I have to say that I'm lovin' that last paragraph 🙂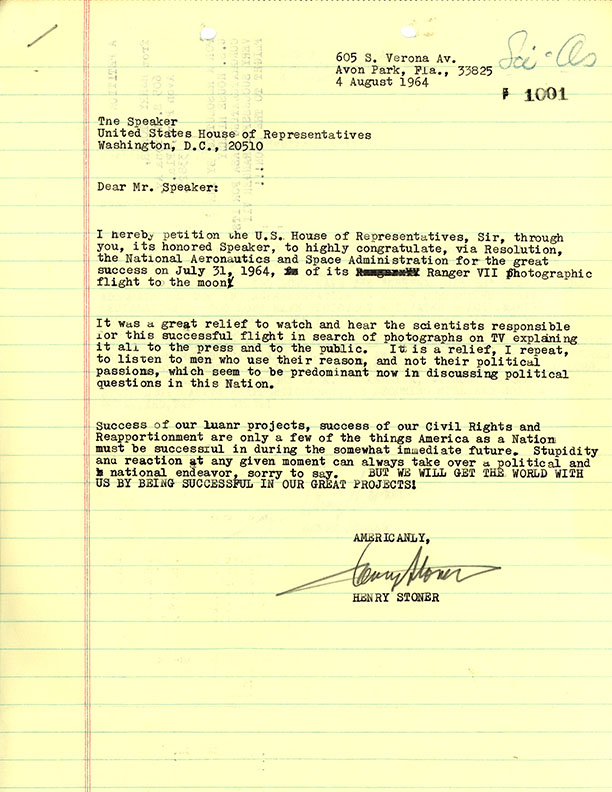 You all have a great day and keep lookin' up!
Note: To offer support to Meteorologist Mark and his educational outreach programs, please consider giving via https://www.paypal.com/paypalme/meteorologistmark. If you can't give, no worries! Just keep following and tell your friends!
Please feel free to "Follow" me on Social Media!
Facebook @meteorologistmark
Twitter @meteo_mark
Instagram @MeteorologistMark
YouTube @Meteorologist Mark (please subscribe for free!)