Weather Headlines
Dodging Mainly Afternoon Storms This Week
Best Chance of Rain Comes End of Week with a Front
Watching the Tropics
MM News
Come out to Roane State Wednesday evening for some stargazing! Roane State Community College is inviting us to come out and see the Perseids Meteor shower, which will be peaking Wednesday night. We'll have telescopes for you to check out some planets and all kinds of other cool things! I'll do my best to let you know what you're seeing, along with some cool space tidbits. We'll be meeting at 7:00. Just look for the telescopes! See you there!
The next MM Kids class will be Tuesday, August 17th at TCAT at 4:30 pm. The topic this time will be lightning! I'll have the registration form available soon. The class will be capped at 12 students to allow for safe social distancing. Suggested age range is 8 and up.
Radar & Wx Alerts Link 
Radar can be found here:
https://www.wunderground.com/maps/radar/current/bwg
Weather alerts can be found here:
https://www.wunderground.com/wundermap
Meteorologist Mark's Wx Vlog 
Seven-Day Forecast
Daily Forecast 
Today – Thursday: Partly to mostly cloudy, with scattered showers and thunderstorms, especially in the afternoons.
Friday – Saturday: Mostly cloudy, with scattered showers and thunderstorms.
Sunday: Partly cloudy, with a chance for showers and thunderstorms.
MM's Wx Concerns
Any storm that develops this week could be strong, with gusty winds (briefly damaging?), heavy rainfall, and deadly cloud-to-ground lightning. We get much of our lightning in August and it can be be quite active! Make sure you're safe around any storm that develops. if you can hear thunder, you're close enough to be struck by lightning.
Hay Weather Forecast
Forecast Discussion
Guidance is beginning to suggest that we may have some influence form the tropics by this time next week. It's a long ways off, and much can change, but it's certainly that time of year and worth keeping a close eye on. I'll keep you posted!
Almanac for Yesterday
On This Day in Wx History
1989 – Seventy-six cities in the south central and eastern U.S. reported record low temperatures for the date. Lake Charles, Louisiana, equaled their record low for August with a low of 61 degrees. Canaan Valley, West Virginia, was the cold spot in the nation with a low of 32 degrees. 
Yesterday's National Temperature Extremes
High:  119° at Death Valley, California
Low:   29° at Peter Sinks, Utah 
Today's Tennessee Weather 
It's a hot and humid August day in Tennessee. That heat and humidity will provide the fuel for scattered showers and thunderstorms today, especially in the heat of the afternoon. The greatest chances of rain will be across Middle Tennessee and the Cumberland Plateau, where rain chances are at 50%. Rain chances are about 30% elsewhere. Expect afternoon highs to climb to near 90 across Middle and East Tennessee, while fewer clouds and more sunshine will lead to highs in the mid 90s for the Memphis area. For this reason, heat advisories are in effect for West Tennessee for today.
Tonight's Tennessee Weather
Showers and thunderstorms will likely linger into the early evening hours, though a few may try to hold on to midnight or so. We're in store for a very muggy night, with lows only falling into the 70s.
Tomorrow's Tennessee Weather 
It's another hot and humid day, with showers and thunderstorms scattered about the state, especially in the afternoon and evening. Rain chances are about 50% for much of the state. Once again, the lower rain chances will be found across West Tennessee (20%-30%), which will also allow afternoon high temps to be much warmer there. Heat advisories will likely be needed again for West Tennessee for Tuesday.
Tropics 
The good news is that trailing system (yellow-shaded area) is looking less likely to develop into anything. The bad news is that the lead system now has a 70% chance of becoming at least a tropical depression. That development could occur as soon as today. The system, on the current track, would approach Florida by Friday. If it interacts with a lot of land it will struggle to become anything significant. I'll keep an eye on it!
Tracking the Fire and Smoke 
Numerous fires continue to burn out west and those fires continue to send smoke right into the eastern US, including our neck of the woods. Most of that smoke is high in the atmosphere.
Sun & Moon
Planting by the Moon  
9th – 10th Best for killing weeds, briars, poison ivy, and other plant pests. Clear wood lots and fencerows.
11th – 12th Excellent for sowing grains, winter wheat, oats, and rye. Plant flowers. Good days for planting aboveground crops.
13th – 14th Plant seedbeds. Plant peas, beans, tomatoes, peppers, and other aboveground crops in southern Florida, California, and Texas. Extra good for leafy vegetables.
15th – 17th Cut winter wood, do clearing and plowing, but no planting.
Drought Monitor
The drought monitor is updated each Thursday.
Past 24-Hour Earthquake Activity
The aqua blue triangle off the coast of Florida is from a small quake that resulted from "an experimental explosion", according to the USGS. I have a feeling NASA has something to do with this. (ha)
Weather SnapShots
This shot is from @Wx_Intercepts from Oklahoma on Saturday. Summer storms are the best!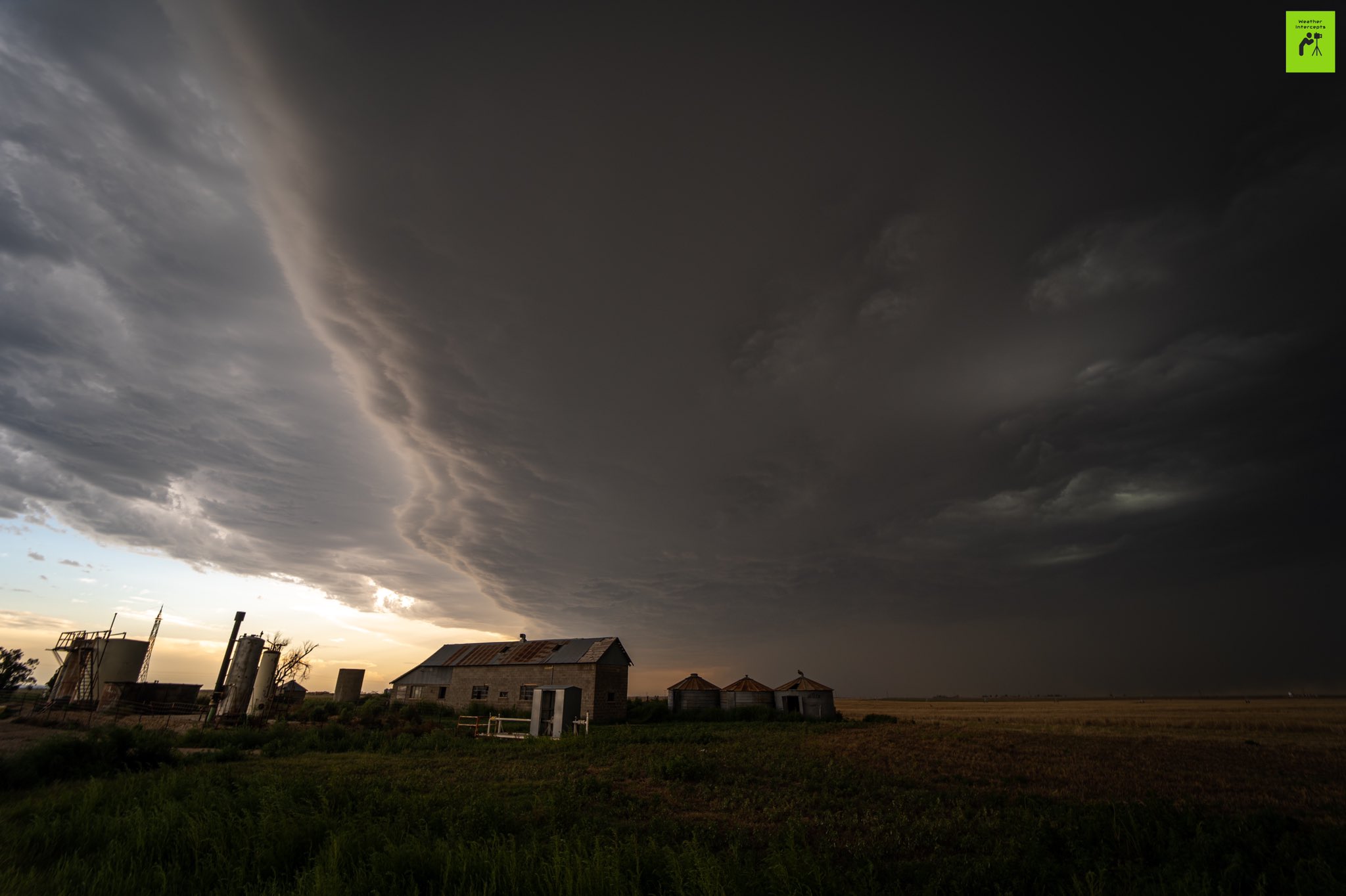 NASA Nerdology 
Lucy, NASA's first spacecraft to explore Jupiter's Trojan asteroids, arrived at Kennedy last week to begin final preparations for liftoff. The launch window opens Oct. 16. Lucy's discoveries will open new insights into the origins of our solar system.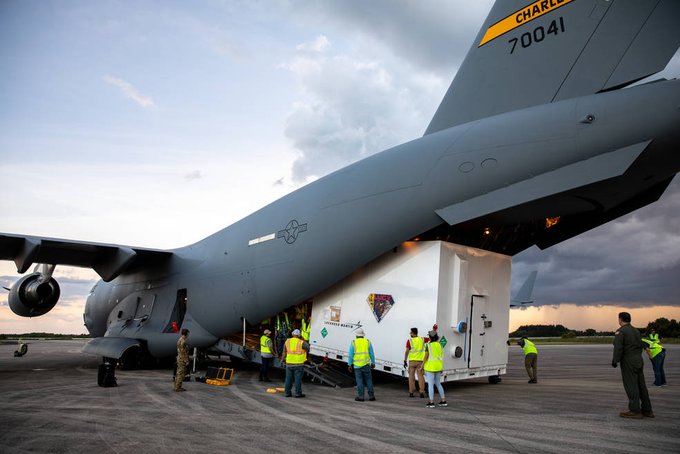 You all have a great day and keep lookin' up!
Note: To offer support to Meteorologist Mark and his educational outreach programs, please consider giving via https://www.paypal.com/paypalme/meteorologistmark. If you can't give, no worries! Just keep following and tell your friends!
Please feel free to "Follow" me on Social Media!
Facebook @meteorologistmark
Twitter @meteo_mark
Instagram @MeteorologistMark
YouTube @Meteorologist Mark (please subscribe for free!)