The all-time record high for Crossville was recorded on this day in 2012. That temp was 102 degrees! Learn more in the "On This Day in Wx History" section below.
Weather Headlines 
Getting wetter as we go through the week
The holiday weekend is trending drier!
Pleasant temps coming for the weekend
Watching the tropics!
Meteorologist Mark's Wx Vlog 
Unavailable today
Seven-Day Forecast
Daily Forecast 
Tuesday & Wednesday: Partly cloudy, with scattered mainly afternoon/evening showers and thunderstorms.
Thursday & Friday: Mostly cloudy, with scattered showers and thunderstorms likely.
Saturday & Sunday: Partly to mostly sunny, with a slight chance for a shower or thunderstorm.
Monday: Mostly sunny.
Hay Weather Forecast
Meteorologist Mark's Wx Concerns
Almanac for Yesterday
Tropics 
Tropical Storm Danny quickly strengthened into a storm just before making landfall on the coast of South Carolina yesterday evening. The remnants of that system are now moving through Georgia and Alabama.
Now, we have two areas to watch in the Atlantic! This looks more like a map from August than from June. Both systems are days and days away from being a concern for any land, but they're both worth tracking.
Sun & The Moon
Planting by the Moon
29th Set strawberry plants. Excellent for any vine crops such as beans, peas, and cucumbers. Good days for transplanting. Favorable time for planting late root crops.
30th – 30th Cut hay or do plowing on this barren day.
1st – 2nd A barren period.
3rd – 4th Good days for transplanting. Root crops that can be planted now will yield well.
5th – 7th Poor days for planting, seeds tend to rot in ground.
8th – 9th Plant seedbeds and flower gardens. First day is a good day for transplanting. First day is also most fruitful day for planting root crops. Second day is most favorable for corn, cotton, okra, beans, peppers, eggplant, and other aboveground crops
10th – 14th A most barren period. Kill plant pests and do general farm work.
15th – 16th Sow grains and forage crops. Plant flowers. Favorable for planting peas, beans, tomatoes, and other fall crops bearing aboveground.
On This Day in Wx History
2012- An abnormally hot, dry air mass settles over Middle Tennessee. Nashville sets its all-time record high temperature, reaching 109 degrees. Crossville also sets a new all-time record high at 102. It's only the 2nd time Crossville has ever reached triple digits. Other all-time record highs are set at Neapolis (110), Woodbury (110), Columbia (109), Kingston Springs (109), Cheatham Dam (108), Franklin (108), Lafayette (108), Shelbyville (108), Sparta (108), Mt. Pleasant (107), Lawrenceburg (106), McMinnville (106), Old Hickory Dam (106), Portland (106), Pulaski (106), Springfield (106), Bethpage (105), Cookeville (105), Gainesboro (105), Jamestown (103), and Monterey (103).
Yesterday's National Temperature Extremes
High:  126° at Death Valley, California
Low:   30° at Berthoud Pass, Colorado  
Twister Tuesday
There are often bizarre stories from tornadoes, such as straw being blown into a tree. The way this occurs may come from how the tree behaves in the wind. As the tree bends, areas of the trunk are weakened and the straw may find its way into one of the weaker spots. Then, when the wind subsides the tree stands back upright, with the straw firmly in place.
The image below shows a tree that was bent over in a tornado but was unable to stand upright gain. It's in this position during the storm that objects may become impaled into the tree.
Today's Tennessee Weather 
It's another muggy day across Tennessee, with a chance for scattered showers and thunderstorms, especially in the afternoon and evening hours. Afternoon highs will be near 90 degrees, but the higher humidity will make it feel much warmer. Stay cool and stay safe around any thunderstorm that develops!
Tonight's Tennessee Weather 
There will be a continued chance for a shower or storm on into the evening hours. Much, if not all, of that activity should subside by midnight. Otherwise, look for partly to mostly cloudy skies and lows around 70 degrees.
Tomorrow's Tennessee Weather 
Skies will be partly to mostly cloudy across the state, with scattered showers and thunderstorms. Once again, those rain chances are highest in the afternoon and evening hours. Afternoon highs will generally be in the upper 80s, with high humidity levels.
Drought Monitor
The drought monitor is updated each Thursday.
Weather SnapShots
I took this sunset picture at the Career Center yesterday evening. What a beautiful sunset it was!
NASA Nerdology 
in 2011, astronomers using NASA's Hubble telescope discovered a fourth moon orbiting Pluto, Kerberos (labelled below as "P4"). All of Pluto's moons are named for mythological figures associated with the underworld. Kerberos is named for the three-headed dog of Greek mythology.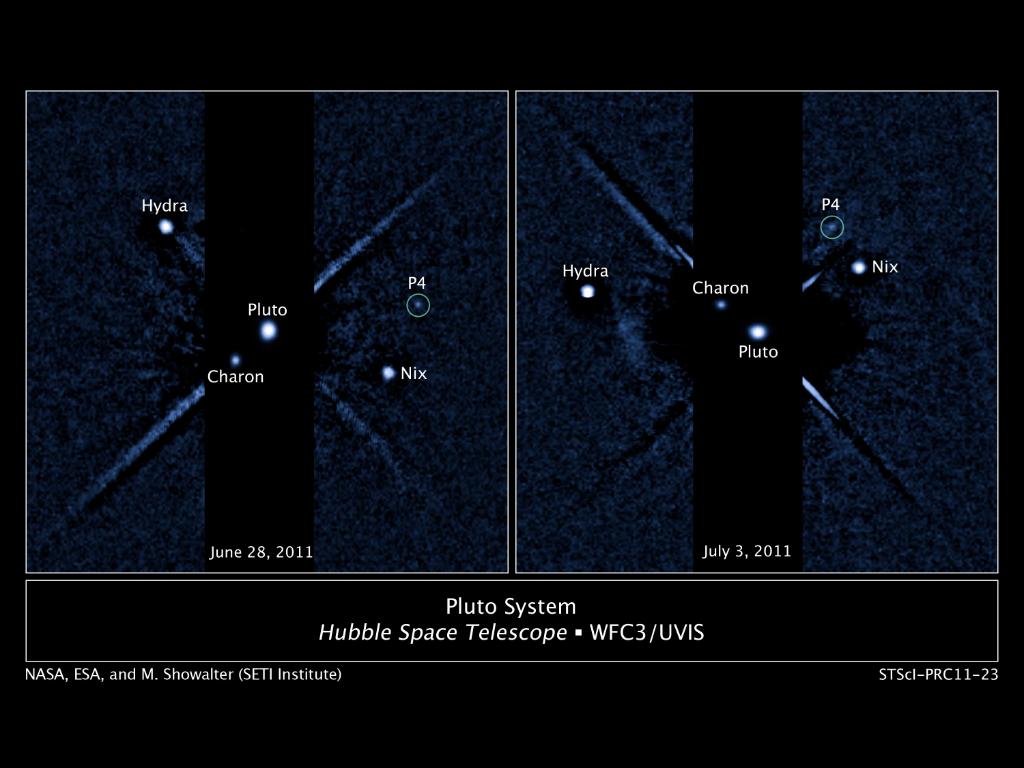 You all have a great day and keep lookin' up!
Note: To offer support to Meteorologist Mark and his educational outreach programs, please consider giving via https://www.paypal.com/paypalme/meteorologistmark. If you can't give, no worries! Just keep following and tell your friends!
Please feel free to "Follow" me on Social Media!
Facebook @meteorologistmark
Twitter @meteo_mark
Instagram @MeteorologistMark